Life's Healing Choices: Freedom from Your Hurts, Hang-ups and Habits
Life's Healing Choices: Freedom from Your Hurts, Hang-ups and Habits
We've all been hurt by other people, we've hurt ourselves, and we've hurt others.
And as a result, every single one of us ends up with some sort of hurt, hang-up or habit.
But the question we all face is. Where do we go from here?

This small group focuses on helping us to find God's pathway to wholeness, growth, spiritual maturity, happiness and healing. You'll find real answers, real hope, and a real future – one healing choice at a time.

Regardless of what you are struggling with – whether it's emotional, financial, relational, spiritual, or sexual – the principles that lead to happiness and healing are always the same, and the choice is always yours.

All participants will require a copy of the book 'Life's Healing Choices' by John Baker.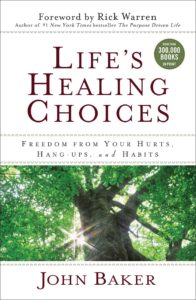 Topics Include:
Admitting Need – The Reality Choice
Getting Help – The Hope Choice
Letting Go – The Commitment Choice
Coming Clean – The Housekeeping Choice
Making Changes – The Transformation Choice
Repairing Relationships – The Relationship Choice
Maintaining Momentum – The Maintenance Choice
Recycling Pain – The Sharing Choice
Registration Information
Online registration closes a week before the event begins. If space is still available you may still register for the event by calling 705-435-9711.
8 week program: Event Start Date:
Wednesday January 22nd, 2020 – 7 pm – 8:30 pm
Also please see our Cancelation policy for more information if you are going to be unable to make the event after registration.
Registration: $75 • Click Here to Register