The Christian Healing House and Guest House of 
St. Andrew Anglican Church 
A place of Love, Hope and Healing.
The Rev Kim McArthur
The Rev Deacon Pam Alderson
Dorothy Murphy, Guest House Manager
Jane Hubbs, Event Coordinator
The Rev Kim McArthur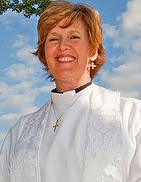 Kim has known God's presence within her life from a very early age when tragedy struck her home. Throughout her life, she has felt God's presence as a teacher, helper, guide, companion, comforter, leader, and life-shaper. That is how God prepared her for ministry. 
As one looks back on the formation she received in business, in life – through the ups and downs, and the desires God planted in her heart, one can see God's fingerprints, His plan and the humbling and strengthening of her spirit to be comfortable standing in the storms of life with others, full of hope. 
Kim knows that with God all things are possible. She has seen God at work in her life and in the lives of so many others, and is able to share the hope that circumstances can change – the fear inside will flee – a breakthrough can happen – all in Jesus name – that God is good – that God knows what is going on, and God is waiting to be called upon for His help. 
Kim has experienced angelic encounters, miraculous interventions, revelatory dreams and visions and has a true passion to journey with others in their pursuit of knowing and walking with God on a deeper level.  We were never meant to walk alone.  We were never meant to bear our sorrows in isolation.  It's too heavy.  It's too hard.
Kim recognizes that life is a precious gift, one not to be taken lightly or for granted, as it goes so quickly.  Making the most out of life, enjoying a richer experience – is to walk in the fullness of what God has prepared for each of us before we were even born – before we got hurt, broken or messed up.  There is goodness, healing and hope waiting for us.
Walking together in faith, we seek help from heaven, and our journeys become richer and easier … as we walk together in our quest to heal, grow and learn to trust God with all we hold precious and dear.
It is often through our pain and struggle that God brings our healing.  God isn't finished with us yet.  There is more to come.  
It isn't easy … but the promise of 'good' that lies ahead keeps us going.  Encouraging one another, being with one another in a community of faith – followers of Jesus – makes all the difference.  It truly does.  And then add the supernatural help from a loving God, and just watch what God can do in your life, and in the lives around you!!!
Kim is the Parish Priest of St. Andrew Anglican Church and the coordinator for the Christian Healing House.
The Rev Deacon Pam Alderson
Dorothy Murphy, Guest House Manager
Jane Hubbs, Event Coordinator